BY THOMAS HALL
Josh Donaldson has been a key player with the Blue Jays but with his contract expiring after next season, what will the Blue Jays do with him?
"I expect with Donaldson being arbitration eligible for the last time, that he gets a raise around $20 million and that he's a Blue Jay come spring training," said Joe Siddall, former MLB player and current radio commentator for the Blue Jays.
Jeff Passan of Yahoo Sports, also reassures fans that Donaldson will be a Blue Jay come next spring.
"I expect the Blue Jays to hold onto Donaldson over the winter because, even though the Blue Jays could get more trade value for him in the winter rather than during the season, that difference doesn't make up for the gap they would have without Donaldson," said Passan.
(Video/Sportsnet.ca)
Signing Donaldson to an extension that makes both sides happy is going to be very difficult right now, but Donaldson has made it clear he wants to remain a Blue Jay.
"If I said give Josh Donaldson three years at $60 million, or four years for $80 million kind of like the Edwin Encarnacion offer. I think that would be a great signing, but I don't think if I'm Donaldson I'm signing up for that right now," said Siddall.
Siddall further explains how next off-season might be similar to of how Edwin Encarnacion's contract situation was handled.
"I think it'll be a little like Edwin's situation last year, everyone in baseball thought when the Blue Jays offered him four years at $80 million he would get offered over $100 million but that didn't happen," said Siddall.
If the Blue Jays were to surprise everyone this winter and trade Donaldson, the return would have to include players that would allow the Blue Jays to compete next season.
"The return would have to include, a middle of the rotation starter, a solid middle-infield player, and a solid outfield player because those are the big targets for the Blue Jays this winter," said Siddall.
Passan explains the problems that Donaldson will face if he leaves the Blue Jays after next season.
"The issue is how many teams are going to step up and offer him that $30 million a year that he is going to command. There's only a handful of teams that would be willing to offer that kind of deal and most of them already have a third baseman, the Chicago Cubs they have Kris Bryant, the New York Mets are a team that he would fit perfectly with but they don't know the health condition of David Wright, the market just isn't as ripe as people think it may be," said Passan.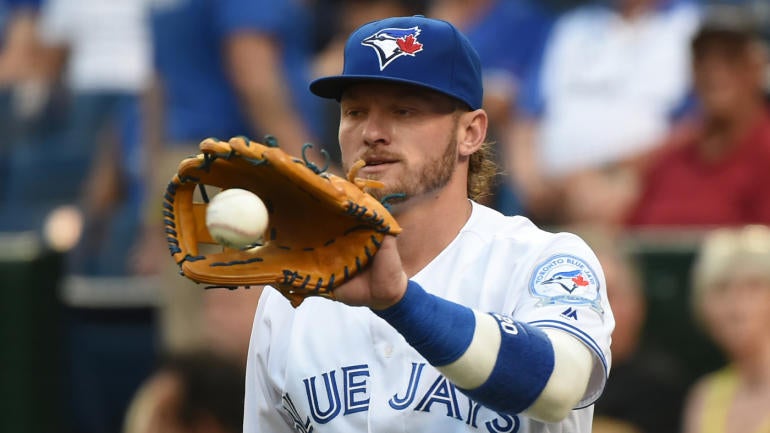 Siddall explains, if the Blue Jays do sign Donaldson to an extension they'll want him to become the Jose Bautista type leader for the team to build around.
"If the Blue Jays extend Donaldson, what the message becomes now is we are building our franchise around Donaldson. We now want him to be the guy for when these young kids come up, and we want them to watch him, and be around him, and learn from him so they can become better players," said Siddall.