BY HAYLEY SMITH AND MEGAN D'ANDREIS
If anything has the ability to influence, it's social media. Today, we see thousands of sponsored posts on platforms such as Instagram, as a way of advertising. Influencers with a high follower count will often partner with companies to promote products, generating revenue for both parties involved.
A growing number of beauty and lifestyle influencers on social media tend to promote what are called "beauty supplements." Sugarbearhair is a vitamin company that has become popular for their vibrant blue hair growth gummies. Famous and influential figures such as Kim Kardashian and Kylie Jenner have been spotted promoting the company on their Instagram, along with several others. The website claims that the gummies will give you everything you need to grow long, healthy hair while tasting like sweet candy. Sugarbearhair claims to be gluten-free, vegan, flavoured by real berries and contain 13 vitamins and natural ingredients.
Let's be real, everyone would love the chance for their hair to be healthier in some way. But what exactly does our hair need in order to be thick, shiny and strong? According to a study by the US National Library of Medicine National Institutes of Health, over supplement of certain vitamins have actually been linked to hair loss. The study claims that people who have a deficiency in the vitamins and minerals listed below may experience in hair loss. In contrast, by adding these vitamins and minerals into one's diet, it may not only help treat hair loss but promote the rate of hair growth in general.
Iron

Zinc

Niacin

Fatty Acids

Selenium

Vitamin A

Vitamin D

Vitamin E

Folic Acid

Amino Acids and Protein

Antioxidants 
These vitamins and minerals look familiar because they are quite commonly found in most supplements that you can purchase at any drugstore. So then, what is the difference between Sugarbearhair and an average multivitamin?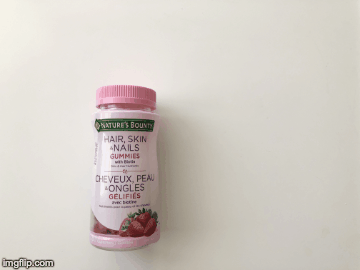 There are several major brands of vitamin supplements, including as Jamieson, One A Day, VitaFusion, NatureMade, the list goes on. It can be difficult for the average person to know what factors to consider when purchasing vitamins. The main difference when choosing a vitamin brand is the label. Be cautious about filler ingredients, and added sugar that does not give any nutritional value. It is important to note that price does not matter. The label is what is the most important. Some vitamins may contain the exact same levels of nutrients, but they could have more fillers than actual ingredients, causing them to be more expensive. While Sugarbearhair gummies cost between $40 and $50, other multivitamins range anywhere between $15 and  $30. Sugarbearhair gummies are also currently only sold online, making them harder to access.
As with anything we choose to put into our bodies, we should always be aware of the ingredients and their effects. It can be difficult to understand exactly what the label says, which is why research and consulting with professionals is highly important. Even when it comes to vitamins, one should be aware of the negative implications that could arise.
Matthew Luu, student at the Leslie Dan Faculty of Pharmacy in Toronto emphasizes the importance of this.
"Anything in excess, whether it be medication, food, or vitamins, can put your body at risk of health consequences."
Luu explains that if someone has excess amounts of vitamins for a short duration, they may just urinate it out and not suffer any consequences. Although, he adds that long durations of excess amounts can put you at risk.
"Excessive vitamin D may lead to nausea and vomiting, whereas excessive vitamin C may increase the risk of kidney stones. It really comes down to the level of vitamins you are taking in, for what duration, and what your body can handle. If someone thinks that taking multiple beauty supplements with exceedingly high values of vitamins will benefit them, I would suggest against it as you may be putting yourself at risk."
However, multivitamins are not the only option for someone looking to supplement nutrients. These vitamins and minerals can be taken in other ways, such as by eating the recommended servings of fruits and vegetables.
Lauren Kinsie, a Nutrition and Food Science student at Ryerson University, prefers to alter her diet to receive the nutrients she needs.
"I've taken supplements such as beauty biotin gummies for hair and nail growth and I never really saw much of difference. I personally think if you are eating correctly and healthy you can usually get the nutrients you need. Fruits and veggies have tons of nutrients and micronutrients, rather than taking vitamins with random added ingredients."
Although this may not be the case for everyone. It may not be suitable for one person to receive vitamins and nutrients the same way someone else can. Luu adds a valuable point.
"An elderly patient may not be able to eat their daily requirements of vitamin D, so supplementation through vitamins helps in their management of osteoporosis/reduction in fracture risk."
There is an ongoing controversy about whether people who lead a vegan lifestyle are getting enough nutrients with a plant-based diet in order to be healthy and energized. One of the main sources of vitamins that is most talked about in regard to a plant-based diet, is vitamin B12. According to Healthline, "vitamin B12 plays an essential role in the production of your red blood cells and DNA, as well as the proper functioning of your nervous system. It is naturally found in animal foods, including meats, fish, poultry, eggs, and dairy."
A vegan lifestyle is chosen because a person doesn't want to eat meat or dairy, therefore lacking nutrients in B12. The main question comes down to whether the vitamin B12 can give people eating a plant-based diet the same amount of nutrients as they would if they were to eat meat or dairy. This is not to say that plants do not contain any B12, some plant milks, and soy products contain some B12, however, individuals would most likely still be very low in their B12 intakes.
According to The Vegan Society, "to get the full benefit of a vegan diet, vegans should do one of the following:  Eat fortified foods two or three times a day to get at least three micrograms (mcg or µg) of B12 a day, OR  Take one B12 supplement daily providing at least 10 micrograms." So vegans and vegetarians could benefit by taking vitamin supplements.
You should always consult your doctor or a medical professional when considering if supplements are right for you. An article published by WebMD suggests a list of questions to over with your doctor, pharmacist, or registered dietitian:
Can this supplement help me? Do I need it for a medical condition or to prevent disease?

Should I take it as a pill, powder, or liquid?

Which form of the vitamin (vitamin D2 or D3, for instance) is the best?

Are there any side effects?

What are the best brands of this supplement in terms of quality, safety, and how well they work?

Can I take it along with my other medications? Should I avoid any foods?
People are urged to do their research and be cautious of what they are putting in their bodies. As our society of influencers continues to grow, it is more crucial than ever that we look deeply at the information being thrown at us.